Welcome to South Side Sales and Service
"Our Service is Your Protection"
!!!Polaris snowmobile models in stock now!!!
We proudly sell Polaris snowmobiles, Polaris Brutus, Stihl , Husqvarna, Gravely, Steiner, McCulloch and used compact diesels along with all the products to service them. We only carry the BEST of what is out there, for you!
Phantom Sleds Are Here!
Phantom Sleds are new, hot, and we are one of the very few places in the north east region that carry them!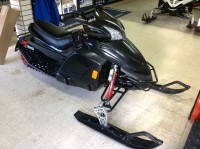 Phantom Sleds are sweeping the nation. They are mid sized sleds (250cc) that are designed for the younger riders of the sport who have outgrown the "mini-sleds" yet are not quite ready for the full sized and full powered sleds.
Click here for more informaiton about these top notch mid-sized snowmobiles.
Our store in North Adams MA is always stocked for all of your winter sports, and property maintenance needs!
We sell:
Snowmobiles
Snowmobile racing equipment such as snowmobile parts, helmets, gloves, and other racing apparel .
Yard Equipment such as lawn mowers, tractors, chainsaws, weed eaters or weed wackers, augers and hedge trimmers.
$$$$$$$$$$ WE WANT TO BUY YOUR MACHINE!!! $$$$$$$$$$
(Contact us for details)

Watch Out For Our 2014 Polaris Race Team This Year!
We Rebuild and Revalve All Shocks In House!!
(Fox, Ryde FX, Walker Evans, Ski-doo, and even Yamaha)

Financing Available!
About South Side
South Side Sales & Service has been a family owned and operated business in Berkshire County for over 30 years. We sell quality new and used snowmobiles, snow blowers, chain saws, lawn mowers, tractors, and other small engine equipment.
We service all equipment we sell, as well as equipment that we don't. We stand behind our products with factory trained technicians and friendly counter persons. All products are properly assembled and serviced before they leave the dealership. A member of our staff will gladly show you how to properly operate your new equipment allowing you to feel comfortable with your new machine if needed. Our main goal at South Side Sales and Service is to make sure you feel confident with your new product.
We also offer a pick-up and delivery to make things a little more easier for you. Just ask!
Hours of Operation
Mon-Thurs . 8:30-6:00
Fri. 8:30-5:00
Sat. 8:30 - 3:00